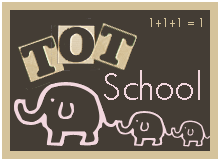 Miss O is 2 years and 10 months.
This week in Tot School:

Daddy led the kids in a bit of pretend "dance class" while I made dinner one night:
Miss O clipped the correct number onto the correct pie slice:
Daddy helped Miss O count these heart cards from
My Montessori Journey
and then clip a clothespin on the appropriate number. She did really well with this!
Little Bean cut out these slips of paper with matching stickers on them and he, Miss O and I played a matching game with them:
Miss O used her safety scissors to cut a straw. I can't tell you how delighted she was with this!
Miss O and Little Bean listened to TJ Bearytales tell stories as they followed along in the book:
Miss O spent some time with the lentil tray: