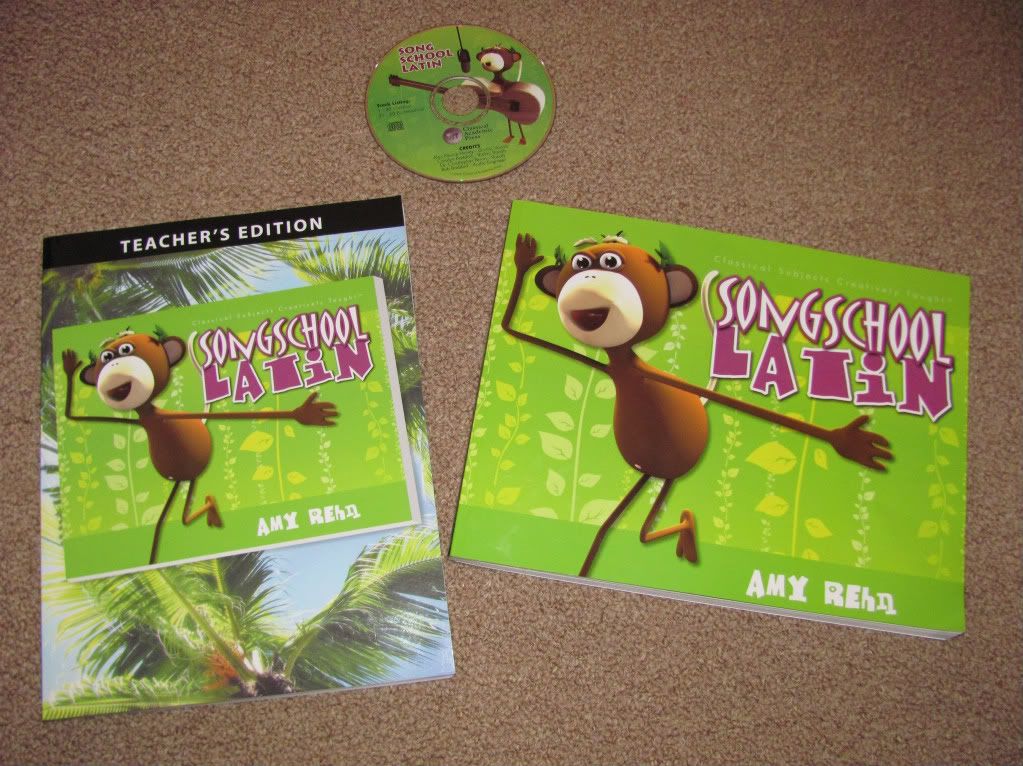 As part of TOS Homeschool Crew, I was given the chance to review Song School Latin, a Latin curriculum for K-3 put out by Classical Academic Press. I was sent the student workbook with CD, the teacher's edition, and a sampling of their Monkey Match game. Here's a peek at the teacher's edition. It contains the full student workbook with answers, teacher hints and ideas:
In the back of the teacher's edition, is a section that has activity pages for the student that can be copied and distributed. In my opinion, while the teacher's manual is nice, if you are doing the lessons alongside your child, you don't really need it for the answer key or additional tips. But the extra activity pages are great for enrichment. If your student needs more practice than the workbook gives, these enrichment pages will be a huge help. If it weren't for these, I would not consider the teacher's edition a necessary part of Song School Latin.
Here are a couple shots of the student workbook. The activities are pretty varied, which is nice. Here, the student puts the cookie with the correct Latin word in the corresponding English jar.
Here, Little Bean traced new Latin vocabulary words, matched them to a picture and then drew a picture of his own family and labeled the people in Latin.
Other unique features of this Latin program include:
--Connections between English words and their Latin roots
--Online games as well as printable coloring pages for each vocabulary word
--A companion CD that includes songs for every vocabulary word your student will learn. The CD is really well done. We enjoy listening to it all the time, even when we are not doing a Latin lesson. Also, I have found that the song CD is crucial to understanding, pronunciation and retention for my kids.
Thoughts: We are really loving Song School Latin! Both of my kids look forward to the lessons, which we do twice a week. Little Bean is retaining close to 100% of the vocabulary so far and has not complained even once about the workbook or lessons. Miss O is retaining about 80% of the vocabulary, mainly through memorization of the songs (she is not using the workbook). We will definitely see Song School Latin through to completion this year. I have not decided if I want to do it over again next year, purchasing a new workbook for Miss O and giving Little Bean the enrichment pages in the teacher's edition, or move along to Latin For Children A, also put out by Classical Academic Press. There is talk of a second Song School Latin, and if that were to come to fruition, I would most likely get that.
The Song School Latin Teacher's Edition sells for $22.95, the student workbook is also $22.95, and the Monkey Match game is $24.95. You can purchase all three as a bundle for $64.95.
Classical Academic Press sells a number of materials for language, including curriculum for Latin, Greek, French, and Spanish. They also sell Bible curriculum, from the reformed perspective, which I am considering for the kids at some point. Their Bible curriculum called God's Great Covenant, takes children chronologically through the Bible. In addition, Classical Academic Press sells poetry and logic curriculum.