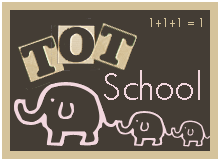 Miss O is 2 years and 11 months.
This week in Tot School:
Miss O played with these K Nex:
She and Little Bean blew bubbles:
She did this sound matching game. We haven't brought this out in a LONG time, and she really liked it!
Miss O strung a Cheerio bracelet:
She colored, always a favorite:
Miss O read:
Miss O spontaneously lined up these Dora dominoes:
The three of us played a few games of dominoes:
Here she is dressing up as a train conductor!
Miss O did the nesting dolls. She frequently gets these down, maybe because she loves dolls of all kinds:
I was surprised when she brought this six sided puzzle down. With my help we completed two sides together:

I got this set of four wooden puzzles at the thrift store for $2.50. Miss O could do them with help, but Little Bean was a super star with these!

Miss O also brought down this little used activity, and began attempting to stack the shapes as high as she could:
And lastly, Miss O sorted these letter tiles for a while. She is taking forever (compared to Little Bean) to learn her letter names and sounds, so I try to give her lots of exposure: