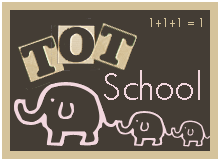 Miss O is 2 years and 11 months old.
This week in Tot School:

The kids asked Daddy if he'd pretend to be their "dance class" instructor!
Miss O drew several times this week with the dry erase board:
Miss O did a leaf rubbing:
She strung pop beads:
And read:
Our old markers were all dried out, so I purchased a new pack this week. The kids spent a lot of time coloring and drawing this week:
Miss O played with the foam number puzzles:
Both Miss O and Little Bean made frames for Father's Day (I'll post about this process later!):
Miss O played with these magnet pictures:
And somehow I got two pictures of this uploaded and now I can't delete one! ;)
They worked on this Care Bear's puzzle Miss O received from Grandma this Easter:
Miss O loved doing these letter and picture matches:
And the dry erase board again; not sure why this is in here twice!