I wanted to share a bit about what we are currently studying--the United States! I was inspired to start this study when we were in the process of moving. All the school stuff was packed, and we had taken that entire month off. Little Bean was restless, so I hopped on
Currclick
and spent $3.50 on a unit study/copywork printable. It looks like it is now $4.00 dollars because she has added another 5 states to the package since we bought it. We ended up starting it shortly after we moved to OK, lol. It was unrealistic to think we could get anything school-related done while we were moving across the country!
The Currclick notebook has lots of elements to help Little Bean learn about the 50 states--a facts page, crossword puzzle featuring state insects, birds, tree, fish, capitals, etc, printing, cursive and manuscript copywork, a matching game, and usually an "interesting facts" page with a coloring sheet. There's more, but I'm not going to list it all. We modified the matching game, and instead of cutting out the pictures to play memory, we cut out one set and stapled them into tiny books (Little Bean loves anything tiny), and cut out the other set and glued them around a printed picture of that state. You can see samples of what all is included on
Currclick
. For $3.50, this was a great base. BTW, the $3.50 covers only the first 35 (I think) states. She is not quite done making them all, but I just received notice that the next set of 5 are now available for .50 cents.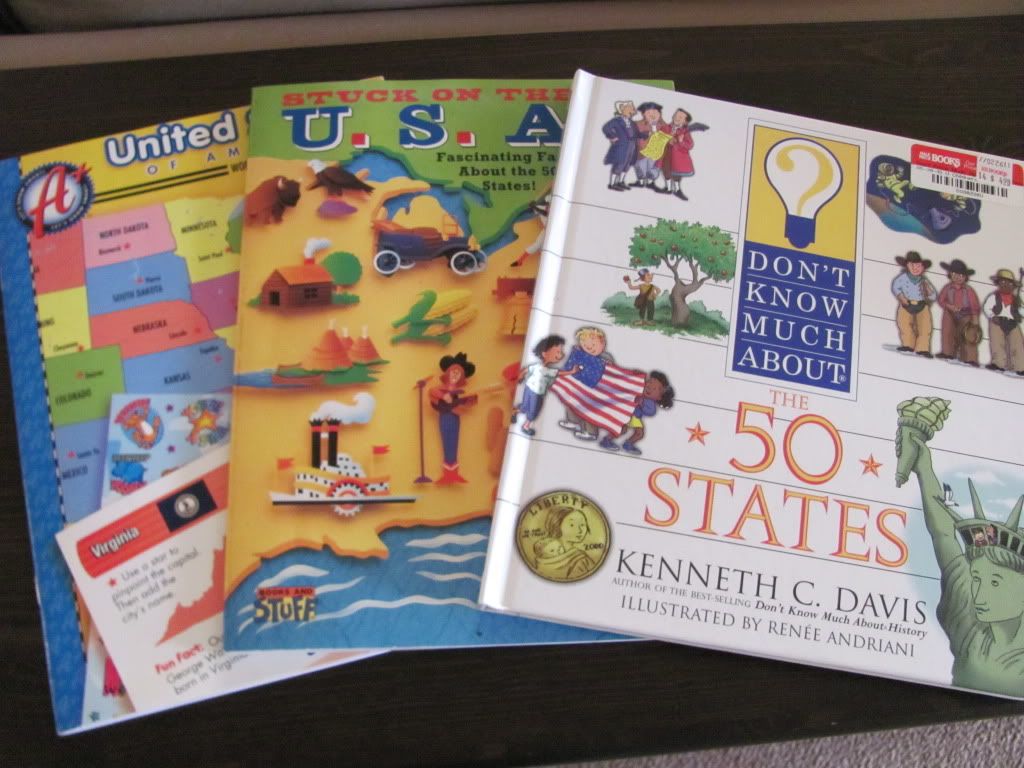 Here in OK, we have a lovely half-priced book store. I really have no need to go to the regular book store anymore because this one is just as good. There I picked 3 more books--a hard back called
Don't Know Much About the 50 states
, and two smaller workbooks that contain stickers and various activities for each state. These books are more enjoyable to Little Bean because frankly, he hates writing, so the Currclick notebook is harder for him.
We happened to have on hand a Melissa and Doug
50 states floor puzzle
, I feel like Little Bean got from my sister in law for Christmas. The kids pulled it out today, and I was so impressed, even Miss O is learning some of her states! Also, I had an Amazon gift card and spent it on
The Scrambled States of America
game. It's a little advanced for the kids, but we can still use the materials to play games with it.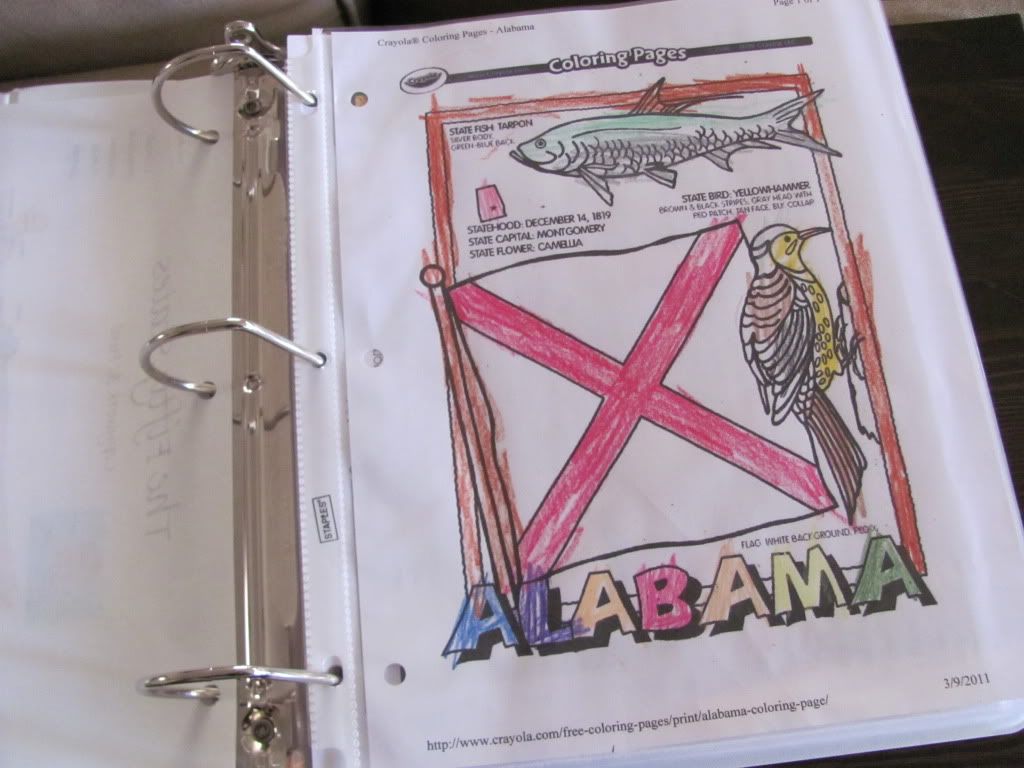 Adding to all this, I searched around the web and found a couple of free printables and coloring sheets of the state shapes and also the flags. Here's
one link
and here is
the other
.