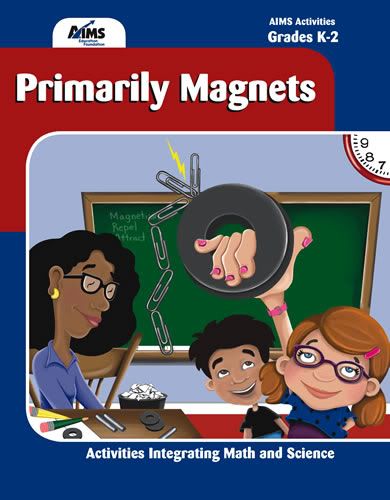 What kid doesn't love playing with magnets? I know both of mine have really enjoyed playing with the magnets in the kit Little Bean received from a friend a year or so ago. The kit even came with a little booklet with some simple experiments to try. So when the opportunity arose for me to review
Primarily Magnets
, published by Aims Educational Foundation, I was certainly interested.
Primarily Magnets is geared toward grades K to 2, and is 85 pages long. Covering such things as magnets interacting with other magnets, magnets interacting with other materials, attraction and repulsion, magnetic fields, and the everyday use of magnets, this supplimentary curriculum went far beyond the little booklet in our existing magnet kit. Primarily Magnets consists of thorough lesson plans which are aligned with educational standards and also has pages that can be copied for use with the lessons. A CD with PDF files of all the worksheets comes with the book, which is really convenient for those who don't have free access to a copier, but can print at home. Primarily Magnets is $18.95. Primarily Magnets is offered in a PDF version for the same price.
As I said, the kids have already done a lot with magnets in the past, but with Primarily Magnets I was able to take their knowledge to a deeper level. I was glad that we had a variety of magnets on hand already, otherwise the book alone would not have been all that fun since it does not come with magnets. You can purchase
ring magnets
alone from AIMS or a
Mostly Magnets
kit, but the kit in my opinion wouldn't work for homeschoolers because it comes with too many duplicates (it was clearly made for classroom use). But magnet kits are inexpensive and easy to purchase, and luckily this curriculum with adapt well to any magnet kit you decide to use alongside.
I found Primarily Magnets to be a solid curriculum choice for those looking for a unit study or semester long study of magnets. Was it exceptional? In my opinion, no, not really. But it wasn't bad either. It was a good solid curriculum and I have nothing bad really to say about it. My friends on the Homeschool Crew also reviewed Primarily Magnets and other products from AIMS (AIMS offers quite a
range of educational products
in the areas of math and science), so if this book sounds like something you'd like to know more about, by all means hop on over
here
and see what other people are saying.
I received Primarily Magnets for free in exchange for my honest review. I am not obligated to give a positive review, and all opinions are mine.