Whew! We did A LOT this week in Tot School (even more than what is pictured here). In addition to all you see here, Little Bean started his Pre-K curriculum last week, and that went great!! He absolutely loves the Moving Beyond the Page curriculum, and Miss O has been listening in on it as well, though she doesn't show interest in any of the extension activities. And I love the Right Start Math! It's so easy for me--no planning at all, which I love. And yet, even though there is no planning, he gets a solid lesson from it every day. But, I digress. This post is about Tot School, and this will be one of the last Tot School posts featuring Little Bean, though I know that he will continue to do all this stuff everyday anyway!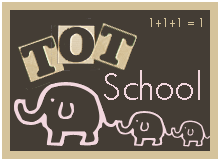 Miss O is 2.5 and Little Bean is almost 4.
This week in Tot School:
Miss O quizzed Little Bean on his -at family words--he got them all right! I was so proud!
They made magnetic foam structures together:
Daddy played K'nex with them. The K'nex rarely come out, so this was exciting for them.
Miss O:
Did this baby animal match game I made:
And pushed foam circles into the correct colored squares:
Then she turned the animal match game over and matched colors instead:
Learn more about Tot School by clicking the button at the top of this post!