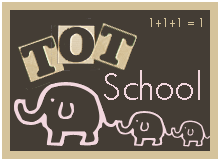 Miss O is 2 years and 9 months old.
This week in Tot School:
Miss O played with the pop beads. She didn't stick with this for too long:
Miss O, Little Bean and myself all took turns with the mystery bag puzzle:
She made up stories with felt. She actually did this one for a while. I rotated out the felt pieces this week, so maybe that is why:
She played with the magnadoodle:
And did the nesting dolls a few times:
She did some work with these foam puzzle pieces. I got these at the thrift store for 3 dollars this week. Unfortunately many of them are losing the sticker picture in the front, so I am refurbishing them as they fall off. Perhaps when I am done I will do a post on the new and improved foam puzzle blocks!
She did this heads and tails game printed from 1+1+1=1 (you can find them on my side bar):
And worked on our file folder puzzle:
Here she is working on a Tangram pattern card. She actually did really well with this!
DH snapped this shot--Miss O doing storytime with her dollies! Can you tell she's been to too many storytimes at the library to count??
Squeeze and Match:
And then Melissa and Doug puzzles:
A bit of fill and spill, this time with toothpicks. This turned out to be a little too pokey (compared to the popcycle sticks in a coffee mug) for my taste. I don't know if I'll bring this out again for a while.