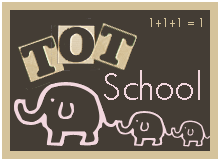 Miss O is 2 years and 9 months old.
This week in Tot School:
Miss O made another contact paper collage:
She played with the open and shut game:
She sorted puff balls by color (she has pretty much mastered this, so I probably won't be doing this one again):
Miss O strung heart beads on pipe cleaner:
And Little Bean, Miss O and I played Dora dominos:
Daddy engaged them in a little game of Bingo before dinner one night:
Miss O made up a story using her magnetic board and fish magnets:
She worked on this sequencing puzzle:
And did the mama and baby animal match (she has mastered this as well, so I think I'll be retiring this one):
Miss O played with this magnetic dress up puzzle:
And of course, she tried out the Sesame Street felt before we gave it to S and J. It looks like Elmo to me, how about to you?? ;)
Jars and Lids here. I've had some comments about the use of glass jars, and have come up with a solution--jarred fruits and applesauce both come in plastic jars with screw on lids (pictured here). Also, S and J's mom blogged about using Tupperware containers as a non-breakable alternative and said her littles ones loved it! She was even able to find containers of different shapes to make it more interesting.
Here Miss O is doing a Tangram pattern. She is getting really into these lately:
Squeeze and Match. Once again, something she has mastered, so I guess I need to start making some new activities for her!
My mom brought over this really cool black paper that you scratch and it reveals rainbow colored paper underneath. Miss O used one of my homemade stencils because the stencils that came with this kit were too complicated for her age: